Test the energy efficiency of YOUR home.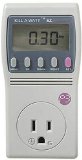 Kill-A-Watt Meter
Digital Infrared Thermometer
Just in time for winter, the Pollard has made available "Kil-A-Watt" Meters and Digital Infrared Thermometers. You can borrow and use these handy devices to test the energy efficenty of your home. Now available at the 1st Floor Information Desk. Brought to you by the Lowell Green Building Commisssion.